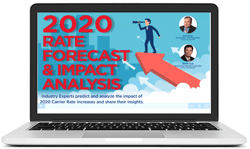 Parcel carriers' annual General Rate Increases are layered in complexity. It challenges small package shippers who are working to control costs and improve profitability.
The year 2020 will be no different.
To help small package shippers understand national carriers' rate increases and pricing strategies in the year ahead, Transportation Insight's Parcel Experts offer the marketplace their experience-based analysis of changes coming from FedEx, UPS and the U.S. Postal Service.
Transportation Insight's exclusive 2020 Rate Impact presentation during Parcel Forum 2019 offers guidance for retailers, manufacturers and distributors working to address emerging parcel network changes than can impact transportation cost and customer service.
Transportation Insight Vice President of Parcel Operations Todd Benge and Senior Parcel Operations Consultant Bernie Reeb leverage more than 30 years of parcel shipping experience to provide small package shippers with information they need improve transportation budget planning in 2020.
In their Parcel Forum presentation they also deliver actionable steps that can help parcel shippers optimize performance and protect profit.
Watch the video to begin improving your parcel program for 2020.