The COVID-19 pandemic continues to create widespread volatility across almost every aspect of the global economy. As the virus affects business civilizations in broad and over-arching ways, individual street-level scenarios in a new crisis environment ripple upstream to disrupt entire segments of industry.
The transportation sector is no different. When contagion causes quarantine, end consumers can't be accessed, retailers close and manufacturers halt production. The supply chain effects ripple upstream across multiple modes of transportation.
While many organizations are already rightly casting focus toward planning for the next unseen disruption looming, rapidly evolving changes in international, truck and parcel transportation sectors not only jeopardizes future contingency planning: It also creates additional complications for current demand response. Here are some of the latest multimodal transportation developments that will impact North American supply chains.
Container Inventory Imbalance Slows Freight Movement
The first container vessels embarking for the United States from post-quarantine China are arriving on the East Coast. There, port operators are dealing with unpresented numbers of full containers that have nowhere to move. Because "non-essential" businesses are closed in many states, cargo and freight destined to those business locations are frozen. Importers are worried their "non-essential" goods can't be transported. The result is a backlog of containers at ports.
West Coast ports will continue experiencing the effect of blank sailings from Asia – especially as the number of prior booking cancellations spiked last week. Most shipping lines have their largest vessels loaded and steaming toward California ports, where operators are exploring nearby storage areas to store containers until they can be moved. Even with plans to stack and store containers, the flood of incoming containers may exacerbate demand for trailer chassis.
In hopes of alleviating some of these issues, Federal Maritime Commission officials are considering expansion of the definition of "essential" to cargo that may be blocking safety, health, medical and food supplies from coming into the nation. Without that move, eastern U.S. container terminals may reach capacity quickly, impeding the offload of new cargo.
Equipment issues are extending to the U.S. interior transportation hubs like Chicago, Kansas City and Dallas. There, a shortage of international infrastructure for importers, and exporters could limit the movement of goods in the weeks ahead. If you are positioned at an interior location and you are planning an export sailing, you need to start searching for equipment early with freight forwarders and NVOs.
Exporters can also expect additional increases in rates of $50 to $100 depending on the lanes. With a 21-day quarantine continuing in India, a limitation on inbound essential cargo in Malaysia and widespread business closures, U.S. exporters should also plan to secure pre-shipment confirmation that their customers will be able to pick up containers at a destination port. Confirming a consignees ability to accept and transport containerized cargo will help additional demurrage or detention fees involved with bookings.
Parcel Demand Peaks, Valley Spur Carrier Changes
National carriers FedEx and UPS play an integral role in the multimodal transportation networks that move vital health, safety and food supplies throughout North America. Actively involved in the federal Coronavirus Task Force, both carriers are moving tens of thousands of supply shipments of masks, gloves, ventilators and other supplies to safety and healthcare workers.
UPS is engaged with the Federal Emergency Management Agency, state health agencies and private companies to provide support for the rapid movement of vital goods across the supply chain to people who need it most. The size and scale of both UPS and FedEx make both companies an important support network. Considering that on a given day, UPS moves 6 percent of the U.S. Gross Domestic Product, and 3 percent of the global GDP, these transportation providers have capabilities to move cargo quickly – even in times of significant demand.
Driven by e-commerce sales as well as those essential products, parcel carrier networks are at capacity volume levels for residential deliveries in some regions of the nation. Carriers are trying to ramp up workforce and flex to manage that volume, with some adding hundreds of transportation workers to their payroll.
Conversely, demand for commercial pick-up and delivery is dropping significantly in both carrier networks. To maintain efficiency, you'll see movement of freight between the carriers' freight networks,express networks and ground delivery systems. This co-mingling of business for companies like FedEx targets some of the slower expedited services to utilize its ground networks for delivery.
Shippers operating in this environment should balance delivery service and cost, especially at a time when many carriers aren't backing service guarantees. If delivery service speed or timing isn't feasible due to network capacity or a closed business, avoid paying extra costs on a service you can't get.
Trucks Moving in Quarantine Areas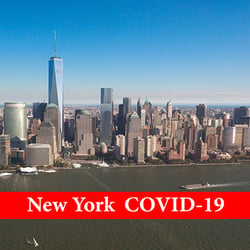 Trucking companies continue moving freight into Coronavirus contagion zones such as New York City, where quarantines are suggested for residents and visitors leaving the area. As additional states pursue similar shelter-in-place measures and advisories, expect the Federal Motor Carrier Safety Administration to continue providing clarity on allowable practices.
It is important to avoid panic around these advisories, especially until regulatory agencies are able to weigh in. It will be very difficult for states to shut down commerce and the movement of goods. Instead, contingencies often emerge that highlight the importance of multimodal transportation.
For instance: While the Centers for Disease Control and Prevention is asking everyone in Connecticut, New Jersey and New York to stay at home and avoid all travel, the same directive doesn't apply to truck drivers. Truckload carrier drivers bringing essential goods into New York City and across the state are still being encouraged to make those deliveries, without the fear of quarantine as a result of entering the areas. Larger regional carriers also continue service to New York City, in many cases finding less congestion and an easier ride in and out of the city.
This means deliveries are occurring often more quickly, but drivers should employ their own safeguards. When they enter contagion areas, truck drivers are asked to abide social distancing protocols. For overnight trips into contagion zones, drivers staying in their sleeper cab or hotels can limit their own contact with others.
When news of city closures breaks, avoid making a panic-driven decision. By monitoring advisory information provided by the departments of transportation in each individual affected state, shippers can make sure to have the most accurate, applicable information. Further, shippers sending cargo into contagion areas – or elsewhere in the U.S. – should call consignees to confirm they are open to receive shipments.
In some cases, larger carriers that find a closed business at delivery are returning shipments automatically. Due to gridlock and a backlog of undeliverable freight, some are sending those goods back to the shipper. Others are seeking other dispositions, especially smaller regional carriers. Again, taking an extra step to confirm movement of goods to the final destination can avoid added costs for additional transportation.
Final Perspective: Persevering in Time of Challenge
Now that spread of the novel Coronavirus enters a new month in the U.S., many private organizations are diverting their resources toward the public good. Vacuum makers are producing ventilators, alcohol producers are making hand sanitizers, and textile companies are turning sewers toward safety masks.
During World War II, the American war-time effort sent a similar surge of support to the front-lines of battle. Whether it was Ford Motor Company changing production lines from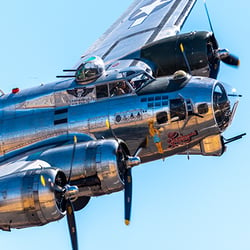 cars to airplanes, Chrysler making tanks, and construction companies building ships, the production levels achieved during a global crisis illustrated the Americans ability to respond in times of crisis.
When you remember that American workers produced 107 aircraft carriers and more than 300,000 airplanes during World War II, the power of the possible is readily apparent. Don't forget all that productivity occurred at a time when there was also rationing of goods. Could you survive on a half-pound of sugar a week and a pound of coffee a month? The "Greatest Generation" did.
Clearly, COVID-19 is creating new challenges for U.S. industry and consumers, but these are not insurmountable. The American spirit that has accomplished so much is alive and well in the organizations pivoting their processes to respond to emerging demands. In doing so, they are not only uncovering new opportunities for growth, but they are advancing activities that support the broader public good.
Remember, we are all in this together now. Working together, sharing information and providing opportunities for all your supply chain partners to weather this storm means they will be there afterwards.
Efficient, well-planned supply chains have that same goal as multimodal transportation networks design focuses on increased efficiency, reduced vehicle miles, improving capacity utilization and service excellence to final customers. To make sure your supply chain meets those goals while managing your overall costs, contact our transportation experts for a no-obligation consultation.
Interested in getting industry updates sent to your inbox? Subscribe below.