As North American supply chains adapt to expanding state and federal COVID-19 shelter-in-place and social distancing guidelines, the effect of overseas disruptions continue to create new challenges.
Empty containers trapped on vessels, in ports or at overseas facilities limit the ability to move raw materials and finished products into American ports-of-entry. Domestically, blank chassis inaccessible due to closures or unavailable backhaul add to transportation network challenges.
Overseas quarantine orders, particularly a three-week shutdown in India, promise to create a new impediment for transportation providers who outsourced financial settlement functions overseas. All the while, U.S. Customs and Border Protection is still enforcing trade regulations and assessing duties on imports.
While the novel Coronavirus effects experienced across domestic shipping channels are relatively new the past few weeks, spread of the virus has been an international transportation concern since the start of 2020. As overseas disruptions continue to accumulate, managing the movement of freight domestically requires particular attention to all the global factors that can affect service and cost.
Infrastructure Limitations Emerge in International Lanes
Organizations relying on international transportation should assess their processes weekly, if not daily. In a volatile environment, it is important to manage what you can, and react accordingly when the uncertain occurs.
If there are deficits in infrastructure, like available vessels and containers, maintaining a regular awareness of inventory priorities, consumer demands and vendor capabilities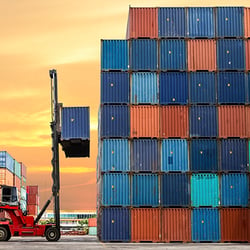 facilitates improved planning across the supply chain.
Currently, there's an increasing equipment shortage. With all the blank sailings moving across shipping lanes from Asia, empty containers are amassing in U.S. ports because vessels have not been available to make return trips overseas. In fact, the Ports of Los Angeles and Long Beach refused to accept empty containers for several weeks. It is now only beginning to take in limited numbers with the promise of ships coming from China.
With India on a 21-day shutdown, equipment positioned throughout the country will be stalled for several weeks, and an immediate backlog of vessels has been created at ports. Likewise, stacks of empty containers lurk in facilities across Europe and throughout Asia, as global transportation slowdowns exacerbates the equipment imbalance.
In China and most other foreign ports, the implementation of a 14-day quarantine from ship date on empty and filled containers stalls vessels offshore and prevents those empty containers from being deployed to manufacturing sites throughout Asia.U.S. organizations relying on international goods to feed domestic networks should make sure to assess available infrastructure by contacting freight forwarders, NVO and NVOCCs to make sure that when production overseas begins and freight is ready to ship there will be equipment available for loading.
Overseas Closures Slows Domestic Billing
U.S. transportation providers that outsource financial settlement functions overseas are experiencing a slowdown in billing. COVID-19 closures are creating severe challenges for some of the larger domestic carriers with call centers in China, India, the Philippines and elsewhere.
Many are bringing billing and call center activity back into North American terminals, but doing so is not only creating a delay of at least a day, it is also affecting billing accuracy in some instances. Carriers conducting random samples in the morning following each night's billing are finding increased error trends. Naturally, when pushing workforce members into billing roles from other job functions create the potential for discrepancies due to an unfamiliarity in processes.
Shippers need additional scrutiny in financial settlement for domestic shipping to make sure they are not only invoiced accurately, but that they received the requested level of service. Although some carriers are accepting delivery guarantees, most are not honoring refunds in the COVID-19 transportation environment. Understanding the available service and aligning expectations as well as validating accurate billing contribute considerably to cost control measures.
Duty Assessments Continue at Domestic Ports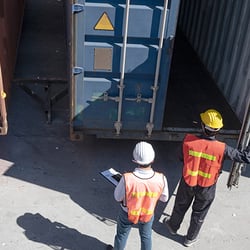 U.S. Customs and Border Protection is fully operational at all ports. In some cases, they are short-staffed and much of the administrative work is being completed remotely, but the agency continues to fulfill its import duties.
Trade industry groups' early-week petitions for deferral of duty payments initially received a positive response including prospects for deferral on a case-by-case basis. However, on Friday, March 27, CBP confirmed there would be no deferral in duty payments, with two exceptions. In the event of a technology failure at a point of entry or a port closure, duty deferrals will be considered due to Customs officers inability to inspect product and documentation.
While COVID-19 is causing widespread disruption across domestic transportation activity, financial penalties following failure to comply with trade regulations can create significant risk for international importers, especially those already facing other operational challenges.
Logistics Experts Lead in Time of Uncertainty
Transportation Insight continues to actively monitor international and domestic transportation networks to provide shippers with up-to-the-hour information they need to make important supply chain decisions.
We have established listening posts in transportation points around the globe in order to provide clients with real-time updates on the challenges we see in the marketplace and help them understand how market dynamics affect their business.
By helping you see and sense the changes that are taking place in domestic transportation, we help you respond and put necessary changes in place that make your business more resilient than ever before.
As you address today's challenges and consider how to mitigate future risks, contact our transportation industry experts for a no-obligation consultation, and allow us to help you master your supply chain to minimize the impact of disruption on your business.
Interested in getting industry updates sent to your inbox? Subscribe below.