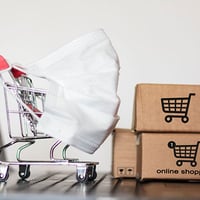 The outbreak of COVID-19 has created many issues for supply chains across the globe, creating scenario after scenario that many companies never thought they would have to face. Imagine for a moment a container ship captain entering a port. Does the captain keep total control of the vessel and ignore the insider knowledge that a local pilot could provide to safely navigate to the dock? No. He relies on the pilot as his ship's guide to safety.
Small package shippers in the U.S. are in the same boat. The increase in ecommerce has been both a blessing and a curse for small package carriers. Although volume is at peak capacity levels, the mix of commercial to residential packages have changed dramatically. For example, UPS has stated that their mix has changed from 50% to 70% residential deliveries. This shift has increased cost significantly for carriers, and they are passing those costs increases on to their customers, with the primary target being larger e-commerce shippers. Here's what is happening and why:
Domestic Residential Demand Leads to Higher Carrier Costs, and Additional Fees – for Some Shippers
UPS and FedEx have implemented Peak Surcharges for U.S. Domestic Residential shipments and large/oversize packages due to the increased demand during the COVID-19 outbreak. UPS implemented the new charges on May 31, and FedEx quickly followed on June 8. The increase in higher cost residential and large package deliveries is eating away at the carriers' margins, and is the reason the charges were implemented so quickly.
The new charges will not apply to all shippers, and some of the charges will only impact large shippers with large increases in residential deliveries. The charges for residential ground deliveries will only apply to large shippers when their current weekly residential volume increases substantially over average weekly February's volume.
The UPS Peak Surcharge of $0.30 per package will begin to apply to UPS Ground and SurePost packages when a shipper's weekly volume of Ground residential and SurePost packages increases more than 25,000 packages than their average weekly volume in February 2020. Once shippers meet the threshold, the Peak Surcharge continues to apply whenever the shipper's Ground residential and SurePost volume is at least 110% of the average volume in February 2020.
For Large Packages, shippers that send more than 500 Large Packages during the peak period will incur a Peak Surcharge of $31.45. Once the 500-package threshold is met in any week, the Peak Surcharge will apply to all Large Packages, regardless of the weekly volume throughout the peak period.
Effective June 8, FedEx has also implemented Peak Residential delivery charge and Peak Oversize charges. However, the FedEx charges are somewhat different than UPS.
FedEx will implement a Peak Surcharge of $0.40 per package for all SmartPost packages. It is important to note that FedEx has no threshold before the Peak Surcharge begins. Unlike UPS, the surcharge applies to all SmartPost packages during the Peak Periods.
For Residential shipments, FedEx will apply a Peak Surcharge of $0.30 per residential Ground and Express packages if a shipper's average weekly volume is more than 40,000 packages, and if the combined Express and Ground residential volume is more than 120% of their average volume in February 2020.
For Oversize Packages, FedEx will charge a Peak Surcharge of $30 per package for every Oversize package shipped during the peak period.
International Shipment Surcharges Abound
UPS, FedEx and DHL have implemented surcharges on international shipments because of very high demand, low capacity and additional cost incurred because of restrictions that have disrupted the global supply chain. Because all major airlines have drastically reduced the number of flights because of the COVID-19 outbreak, capacity for cargo is very tight. This capacity reduction has led to an increase in rates via a "peak surcharge." These surcharges will likely remain in place for the rest of the year, and it's possible they could increase again in September or October when demand typically increases.
Effective April 5, UPS implemented Peak Season Surcharges on all shipments from China and Hong Kong to North America and Europe. A few weeks after implementation, UPS increased the surcharges and expanded the origins and destination to cover nearly all international shipments, while also suspending all service guarantees. Below is a summary of the international Peak Charges. Check the UPS website for updated information.
Price per Pound

China to US

Hong Kong
to US

All other origins to all destinations

Express

$0.79

$0.57

$0.11

Expedited

$0.75

$0.52

$0.11

Express Frt

$1.81

$1.36

$0.34
FedEx implemented similar charges on April 6, and the charges have increased and expanded to cover all international shipments. In addition, FedEx suspended all service guarantees. Below is a summary of the international Peak Charges. You can refer to the carrier's website for updated information.
Destination

Origin

Rest of APAC

All Other

China Parcel

$0.45

$0.90

China Frt

$0.45

$1.60

Hong Kong

$0.45

$0.45

Rest of APAC

$0.45

$0.10

All other

$0.10

$0.10

Europe

$0.10

$0.05
Effective April 1, DHL implemented an Emergency Situation Surcharge on all time-definite international shipments. The surcharge was updated on May 24. Below is a summary of the international Peak Charges and we've provided a link to the carrier's website for updated information.
Destination

Origin

China & Hong Kong

Australia & New Zealand

Rest of Asia

Europe

Americas

Rest of World

China

$0.45

$0.90

$0.45

$0.90

$0.90

$0.90

Hong Kong

$0.45

$0.90

$0.45

$0.45

$0.45

$0.45

Rest of Asia

$0.45

$0.85

$0.45

$0.09

$0.09

$0.09

Europe

$0.09

$0.09

$0.09

$0.09

$0.09

$0.09

Americas

$0.09

$0.09

$0.09

$0.09

$0.09

$0.09

Rest of World

$0.09

$0.09

$0.09

$0.09

$0.09

$0.09
*Price per pound
Shippers using the U.S. Postal Service as an alternative to commercial networks to move packages in and out of the United States will not be immune to cost increases. The Universal Postal Union has allowed the USPS to change their terminal fees effective July 1, 2020. Terminal fees are the fees that postal services in other countries are charged to have packages delivered by the USPS in the United States. The USPS has increased its terminal fees to about 70% of the U.S. domestic rate. This move will most likely result in increased postage rates from other countries to the U.S., especially from China.
Other countries will have the opportunity to change their terminal rates in January, 2021. This could impact outbound rates from the U.S. to these destination countries. It is likely that we will see substantial increases to USPS international mail and package rates.
A Trusted Partner through It All
What does all of this mean? How do you process these complex changes to meet demands from an evolving network that certainly places stress on your ability to serve your customers while being cognizant of your profitability? As a partner that will align its tools, technology and expertise with your own interests, Transportation Insight can be the steadying influence you need to leverage. Contact our Parcel experts today to start the conversation on how we can pilot you safely through these unprecedented conditions.
Interested in getting blogs straight to your inbox? Subscribe below.