Although many logistics businesses are adapting their processes in the face of the global Coronavirus pandemic, activity across the transportation lanes feeding North America's critical supply chains illustrate a determined focus on powering commerce in the United States.
Government agencies, with the support of trade associations, are clearing the way to keep trucks moving throughout North America and across borders. Meanwhile, commercial organizations are adopting practices that deliver even more support for domestic and international shipping, driven by their own efficiencies and desire to meet the public needs.
These evolutions support shippers' ability to serve customer demand for supplies – especially essential health, cleaning and safety necessities. Service may come at additional cost, but for organizations closely monitoring today's shipping environment, the most important news is that transportation carriers continue to move goods across the nation.
Money-back Guarantees Halted, Peak Season Charges in Place.
FedEx has stopped money-back guarantees for all Parcel and Freight shipments and service, and this is likely to continue for months ahead. Don't be surprised to see UPS follow suit. It's also plausible to see new domestic charges emerge in the parcel shipping space as carriers deal with new efficiency challenges created by closed business, lower density routes and booming parcel volumes.
UPS has already implemented peak season surcharges from Hong Kong to several countries including the U.S. Look for a similar move from FedEx in the days ahead, and expect a domestic surcharge to emerge for parcel carriers focused on protecting revenue while meeting intense consumer demand.
The demand varies based on location, putting some geographies over capacity and others under-capacity, depending on the business versus commercial delivery. Fortunately, parcel networks have avoided significant work stoppages. Although some individuals have been affected in parcel facilities in Metro Detroit and Alpharetta, quick response and clean up put operations back to business as usual.
Essential Operations Supporting the Economy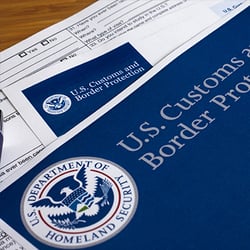 The U.S. Department of Homeland Security in conjunction with the Federal Motor Carrier Safety Administration has clarified that people on the job supporting global transportation networks are "essential workforce."
Previously, truck drivers were understood among the "essential" category, but information from the regulatory agencies specifies that those essential workers are supported by a number of other roles. They include individuals working in dispatch, maintenance and repair, warehouse workers, and truck stop and rest area workers. Employees of firms providing services that enable logistics operations – including temperature-controlled warehouses underpinning grocery supply chains – and distribution centers are integral to warehouse and retail operations.
Transportation thoroughfares also benefit from Americans adopting "social distancing" practices. Traffic has plummeted and congestion has declined, leaving open lanes for trucks to expedite deliveries.. Many states are also waiving fees on toll roads and opening express lanes and High Occupancy Vehicle lanes to make transportation commutes easier and more profitable.
International Lanes Adjusting for Volume Increases
Activity is ramping up overseas, as more production comes online across Asia. While factories in China aren't 100 percent online, the flow of goods from Asia-Pacific region is returning to normal, and transportation providers are responding. However, because demand in the U.S. has not returned to normal, organizations' North American supply chain strategy needs to adapt.
All international shipping ports in the U.S. are operational, and warehouses supporting these key nodes are functioning with safe work habits that support social distancing. Many of these facilities support the movement of essential goods needed for Coronavirus response. While workforce practices have been adjusted, operations continue as normal.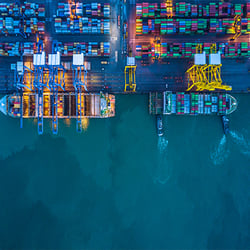 Ocean-going vessel operators are repositioning their largest ships in the Asia-Pacific lanes, where rates are currently stable. Overseas factories that are early to port, early to vessel may experience some dip in spot rates. Meanwhile, in the wake of a spike in Air Freight rates, passenger airlines are providing new capacity that will stabilize some of those costs.
Delta Air Lines, Lufthansa and other airlines are supporting air cargo movements with widebody trans-continental aircraft, some of which carry 20 to 30 tons of cargo. While there will still be rate adjustments, this has brought some stability to air freight rates. Legacy air cargo lines remain close to full capacity.
With cargo continuing to flow across those international lanes, U.S. shippers need particular focus on visibility, managing each shipment booking until its final delivery. Organizations should work closely with their freight forwarders, and once products move to inland channels, shippers need to be incredibly vigilant with their cargo, because business closures or delays may delay delivery and stress the supply chain.
Once products re-enter the domestic supply chain, it will also be important to manage storage capacity until U.S. consumer activity resumes in a widespread fashion. Inbound shipments may not be going out the door as quickly, and storage contingencies may be required.
Transportation Insight helps shippers of all shapes and sizes manage their supply chain changes and consumer needs. We help companies understand the options available by monitoring multi-modal transportation activity and making recommendations on the best ways to get freight to the customer. We can help you manage costs and build relationships that will empower you to master the supply chain from start to finish.
How can we help you best optimize your transportation management program? Contact us today for advice on keeping your business moving forward.
Interested in getting industry updates sent to your inbox? Subscribe below.