Concerns about the global supply chain weigh heavy on everyone's mind. Because China was hit hard at the beginning of the novel Coronavirus outbreak, production lines throughout the country were severely disrupted, leading to blank sailings and concerns about how freight will cross from Asia to North America.
Today, confusion remains in the marketplace. Although China is reporting fewer purchase orders received by factories for the month of April, U.S. ports-of-entry are preparing for a surge of volume. The Port of New York and New Jersey – one of the U.S. areas hit hardest by COVID-19 – is expecting 25% more inbound freight this month alone. As a result, port authorities are looking for storage space for containers. The government is considering expanding the definition of "essential supplies" to reduce surplus freight and advance it to final destinations.
Now more than ever, companies need to work together on creative solutions for their freight. As a shipping partner in the logistics industry, here's what you can do today to ensure your global supply chain remains strong.
Working With Freight Alliances in the Global Supply Chain
Because there were so many blank sailings during February and March, ships did not return to U.S. ports to offload full containers, and collect empty ones for return to Asia. This creates an imbalance in vessel space: ships are booked six weeks out, and we expect to see that throughout April and May.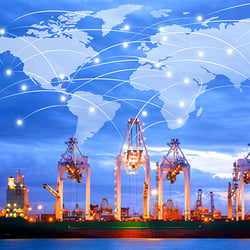 However, there is hope that it won't create a massive disruption. As it roughly takes 30 days to move freight from Asia to North America and Europe, alliances are working together to ensure ports don't get overloaded. The 2M alliance of Mediterranean Shipping Company and Maersk announced earlier they would offer a "storage-in-transit" program for companies utilizing their lines. "Suspension of transit" allows freight to get delivered close to the destination, but not quite to the port of entry. This delayed shipment allows companies to avoid high-cost warehousing or storage costs as ports work through the container backlog.
If you aren't working with your shipping lines now, it's critical to start conversations with them to understand all the options available. By opening up communications with the ship lines and alliances, you can work together to drive creative solutions that allow your freight to move freely, while reducing costs due to unforeseen circumstances.
Navigating Today's Disrupted Global Supply Chain
The global supply chain remains a key part of how the world gets finished goods. Companies that rely on Asia for components and finished products need to start carefully planning how to manage the current situation at all touchpoints: from the factory to moving those products once they arrive on U.S. shores.
It starts with an assessment of current and projected inventory. How much do you need to get through this storm? Regular communication with vendors provides understanding about output capacity and shipment timing for the requested freight. Although purchase order volume may be down, factories ramping up production could create opportunity to either add to depleted product inventories or deploy a low-cost multi-source plan.
From here, monitoring foreign infrastructure and empty container availability is critical. Managing every booking in detail is the only way you can ensure freight ends up on ships, inbound to your company for distribution to your clients.
Model Global Supply Chain Redundancies and Logistics Networks
As we get through this together, what matters most is how your company reacts to this disruption. Working with an analyst and creating detailed plans improves decision-making processes and supports modeling that will help minimize effects of any future global disturbance.
Creating redundancies as part of a global supply chain can help your business maintain continuity. By using a dual-sourcing or multi-sourcing strategy, your business can ensure that components remain within reach and maintain primary and alternate transportation channels needed to move them to your locations. Having a supply source outside China can provide an outlet of continuity for companies of all sizes.
While global supply chain redundancies are a start, creating logistics models are the only way you can use this strategy as a competitive advantage. Unless you have an emergency plan in place, your business cannot ensure continuity as a strategic plan.
Companies Need to Consider the Global Supply Chain Now
Even after this disruption, the global supply chain will remain a key part of the world's infrastructure. Without an attention to detail, communication with partners, redundancy plans and logistics models, your company could simply be exiting one crisis and leading into another.
Transportation Insight remains here to help your company navigate these changes, giving you mastery over the supply chain. Contact us today, and use our strength to drive your business forward together.
Interested in getting industry updates sent to your inbox? Subscribe below.