Political trade dialogue between sovereign nations continues to influence international shipping organizations and specific shipping lanes. The effect of lingering tensions between United States and Chinese governments become apparent looking at rates and volumes. That impact extends to domestic supply chains across all U.S. domestic modes.
Delving deeper into details behind trends impacting international shipping can empower organizations that rely on cross-border shipments. Understanding recent changes in the climate offers valuable insight into changes that may arise on the horizon. This improved awareness is critical to mitigating risks that exist in this environment. It can also provide key guidance for optimizing transportation strategies.

China Tariffs Affect Volume, Rates
The United States and China have not yet reached an agreement on tariffs planned for implementation in December. While the latest public statements from both sides are encouraging, many economic indices continue to swing up and down dependent on the latest unpredictable developments.
After initial indications that a deal between the sides was near, the Trump Administration signaled that ongoing trade talks might not include concessions to rollback tariffs scheduled to take place Dec. 15. These tariffs would impact many consumer goods, including electronics, and are in addition to many tariffs still in place, including a 15% tariff on goods levied Sept. 1.
Following the news, U.S. bond markets rallied and stock markets slipped. Days later, reports of "constructive" discussions drove the Dow Jones Industrial climbed more than 200 points to close at a record high 28,000 on Nov. 17.
These seesaw swings have not translated to the ocean shipping marketplace. There, trade uncertainty has had a more consistent negative effect on freight rates. During 3Q 2019 spot rates from Asia to the U.S. declined for the third consecutive period. The direction of spot rates this year is in sharp contrast to 2018 when the peak season began early in July, and lasted through December as retailers front-loaded imports to stay ahead of Trump Administration tariffs on imports from China.
Further, the continued decline in rates sends a strong signal to ports, carriers and beneficial cargo owners that there will be no surge of merchandise imports in peak season 2019. Speakers at the Intermodal Association of North America's (IANA) annual conference in late September in Long Beach, CA, predicted that growth in ocean, intermodal and truck freight would be flat to low single-digits through the peak season and into 2020 due to the continuing trade war and the slowing U.S. manufacturing sector.
E-Commerce Growth Drives International Trade
E-Commerce sales continue to increase steadily in the U.S. and global economies. This continues to drive small package volume at points of entry.
U.S. Customs and Border Protection Commissioner Kevin Aleenan quantified those staggering numbers in 2018. Based on Office of Trade records, e-commerce resulted in nearly a 50% increase in express consignment billings in five years and a 300% increase in international mail. In fiscal 2013, the agency processed 150 million international mail shipments. By fiscal 2017, that number was over 500 million shipments.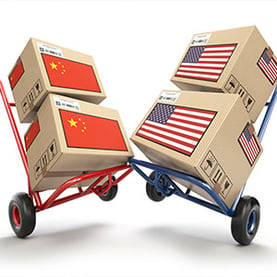 Volume increases especially intensified after the enactment of the Trade Facilitation and Trade Enforcement Act of 2015 that raised the de minimis value for individual shipments to $800 from $200. CBP estimates that U.S. international mail processing facilities handle more than 1.8 million packages per day that fall under that $800 threshold for declared value.
Those numbers continue to climb as U.S. retail e-commerce sales keep growing. The U.S. Department of Commerce estimates the U.S. retail e-commerce sales for the 2Q 2019, adjusted for seasonal variation but not for price changes, was $146.2 billion. That reflects an increase of 4.2% from the first quarter of 2019.
Meanwhile, total retail sales for the 2Q of 2019 was estimated to increase only 1.8% from the first quarter of 2019. E-commerce sales in the second quarter of 2019 accounted for 10.7% of total sales.
In a year-over-year comparison, the 2Q 2019 e-commerce estimate increased 13.3% from the 2Q 2018 while total retail sales increased 3.2% in the same period.
On a non-adjusted basis, the estimate of U.S. retail e-commerce sales for 2Q 2019 totaled $139.7 billion, an increase of 8.3% from the first quarter of 2019.
Deeper Insights Empower Supply Chain Strategy
Organizations that rely on timely, cost efficient shipment of raw materials or finished goods across international borders depend on a transportation network that is susceptible to a broad range of influences. These influences can dramatically affect a shipper's cost to serve.
Consumer expectations, regulations, government policy and digital disruption can all significantly impact supply chain strategy. In this climate, companies employing best practices regularly review their supply chain strategy. Doing so requires knowledge of currents across the broad transportation market, as well as mode-specific awareness of changes that can challenge transportation cost management.
Transportation Insight closely monitors the transportation market to provide shippers of all sizes with experience-based insight that can help them most effectively navigate changes that threaten to disrupt their supply chains. Combining that industry expertise with technology-enabled data analysis and actionable intelligence, positions organizations to quickly adapt their strategies to protect performance and achieve competitive advantage.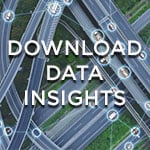 As part of a co-managed approach, Transportation Insight shares regular updates with clients to keep them abreast of changes in their environment that might affect their supply chain networks. We offer this information to the larger marketplace with our quarterly Data Insights publication. This free guide provides a general overview of transportation trends that affect most shippers.