Overseas shutdowns caused by COVID-19 continue to affect North American supply chains. Just as some domestic transportation rates continue to plunge, strategic capacity reductions by ocean-going vessel operators combined with record air freight volumes adds complexity to an already challenging environment for transportation cost management.
Organizations looking ahead to post-Coronavirus recovery efforts must not only strike a balance between cost and service, they must also be mindful of the impact that the slowed movement of raw materials and finished goods across international shipping lanes creates. While those goods are moving – particularly essential goods – monitoring their progress across the ocean and into ports will be especially important for retailers.
While all North American companies may not rely on international transportation to support their supply chain, activity in overseas shipping networks can still have a significant impact on your ability to serve customers. From container capacity and blank sailings to rising air rates and evolving trade enforcement practices at U.S. ports, here are some of the evolving international trends affecting the transportation marketplace.
International Capacity Declines Continue
Ocean carriers are working to optimize overseas transportation lanes, including cancelled sailings from China to the U.S. Within the 2M shipping alliance of MSC and Maersk, 20% of sailings have been cancelled in the Asia-Pacific shipping lane. Meanwhile, The Alliance, comprised of Hapag-Lloyd, Yang Ming and Ocean Express Network, announced 32 blank sailings in the Asia-Pacific lane in April 2020. These vessel volume reductions are impacting U.S. ports on both the East and West Coast.
For the vessel sailings that are still slated for April 2020, many are making diverted trips around Asian ports to maximize vessel-loaded capacity before proceeding across the Pacific Ocean. Because sailings are diverted from Shanghai to other stops in China or South Korea, sailing time to the U.S. West Coast may increase by a week or more.
As ocean carriers focus on ensuring an optimal number of vessels operating in the Asia-Pacific lane – a level that protects the financial interests of those vessel operators – North American importers need to monitor transit opportunities. Already, some shippers are experiencing a challenge securing capacity from Asia to North America. For capacity that is available, expect rates to begin inching up.
Also expect additional charges to emerge at ports managing ocean vessel offloads. Already, we're seeing container freight stations apply new $15 health and safety charge where Less-than-Container-Load shipments are offloaded, packaged or repositioned. Expect those types of charges to remain in place indefinitely.
Air Freight Volumes, Rates Peaking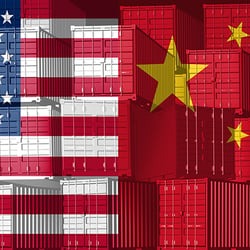 In the wake of a three-year low for air cargo levels during February, U.S.-China trade tensions and a reduction in global manufacturing output, this industry is experiencing international transportation turbulence.
Air freight rates are at an all-time high. On some routes, prices climbed from less than $1 per kilogram to more than $7 per kilogram. As we've seen rates climb nearly nine-times in the past couple of weeks, airlines continue efforts to convert passenger planes for cargo use. Making this shift quickly, the airlines are not only able to help move humanitarian supplies needed in the COVID-19 response, they are also able to continue earning revenue during a tumultuous economic time.
Whether you are moving finished goods or raw materials from overseas into the U.S., or exporting to fulfill foreign market orders, expect a volatile rate environment. Monitoring customer expectations might create an opportunity to reduce cost by utilizing a lower level of delivery service that still meets the end customer's needs.
Duties Exclusion on Some 'Essential' Imports
In spite of the challenges arising due to the spread of a global pandemic, many organizations are responding to the health and safety needs of the global public. Many of Transportation Insight's own valued client partners are working hard on the front lines in this battle against COVID-19.
Whether they provide emergency medical supplies, personal protection equipment or other essential goods, business is at an all-time high for all these companies, and many dedicated employees are working around the clock in response. We continue to see stories emerge of North American manufacturers who are modifying their processes to produce COVID-19 response supplies, often shifting from unrelated products to meet new demands.
Just as these organizations are evolving to meet needs, we also see some of the global regulatory accommodating the rapid movement of essential goods to regions where they are needed most.
If your organization's efforts to produce and/or provide essential goods relies on imported products, it is important to maintain awareness of the evolving enforcement practices of U.S. Customs and Border Protection. CBP is granting section 301 exclusions on an ongoing basis. Work with your broker to make sure your import products are not involved in any exclusions that might eliminate all or part of import duties on products coming from China.
Future View Starkly Different than the Past
Organizations planning operations for "life" after the COVID-19 threat dissipates, are already anticipating significant adjustments in their strategies to respond to customers behavioral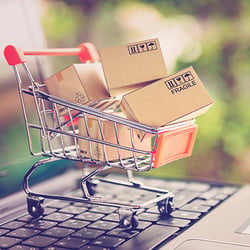 changes that have evolved during this pandemic.
Online buying practices that are dominating retail space in a social distancing society can spur a permanent shift in the way many organizations ship, both within North American and overseas. Some organizations will consider on-shoring or near-shoring operations in the wake of COVID-19, but the reality is that Asia will continue to be a central market for product sourcing.
Whether you are repositioning your supply chain network to support alternative sourcing strategies or exploring additional overseas vendors, a partner with international shipping expertise positions you to make sure you not only deliver on the demand of end consumers, but protect profit margins by controlling transportation costs.
To make sure your international transportation management strategy is meeting your emergency needs today, and supporting your organization's success after COVID-19, contact us today for a supply chain assessment. Let us take control of your transportation challenges so you can master your supply chain.
Interested in getting industry updates sent to your inbox? Subscribe below.