Every quarter, the National Motor Freight Transportation Association meets to discuss changes to National Motor Freight Classifications (NMFC). While many of these changes are benign, some could see your shipping bill go up at the start of the year – especially if you primarily utilize Less-Than-Truckload (LTL) carriers. Although change may be coming, our experts have closely scrutinized the changes and understand how they could impact your potential strategy and cost. Here are the most important shifts you need to understand from the changes effective January 4.
Classifications are Changing to Reflect Density Rating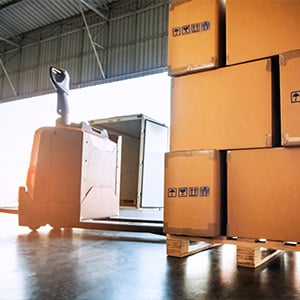 Perhaps the most important change coming from the NMFC rate shifts are how shippers are affected by the change. As in previous moves, freight class changes focus on reflecting actual density rating as products are loaded onto trucks.
Classifications are the result of considering four key factors: Density and cargo value, how freight loads on trucks, handling restrictions (or lack thereof), and carrier liability while freight is in transit. Generally speaking, pallets that fit nicely on trucks with no restrictions on handling or transport restrictions stay in lower categories. Fragile items, those that can't be transported with other items, or are very valuable go into higher categories.
As the NMFC continues to change, we see classifications affecting items that don't easily fit on trucks or are otherwise hard to manage and transport. Affected by the latest changes are shippers moving what the industry likes to call "Ugly Freight": odd-sized items, low-density in pounds per cubic foot, or items that come with serious restrictions.
As an example: Post and pole manufacturers who construct lighting, telephone or electric railway posts or poles will see their classes change. Longer items, such as those exceeding 288 inches, are a minimum of class 100, while those shorter than 96 inches are now in a minimum class of 77.5. This includes poles that come with affixed mast arms or brackets, while the measurements are based on the longest dimension.
Pricing Set-Up Could Challenge Future Shipping Costs
From the quarterly changes, improper pricing setups could also see shipping costs rise. As with everything in the logistics world, the devil is in the details.
Take the changes to the foodstuffs group as an example of these changes. As a result of the first quarter shifts, a new category is created for addressing shipping of wet sauces, condiments, dips or spreads. Instead of categorizing them with their traditional dry counterparts, this group will start shipping at class 65 rates.
If a company is not prepared for those changes, it could force them to pay more to move those items from point-to-point, resulting in going over-budget because the pricing set-up was incorrect to begin with. In this group of goods, the only constant is change. Companies must be ahead of the shifts before they go into effect.
State of First Quarter 2020 LTL: Holding Pattern
With shipping categories and classes changing in the first quarter of 2020, how does that affect LTL rates? There's good news and bad news for shippers, who could be affected long after items are loaded and the trailer doors close.
There's good news for pricing: shippers should only see few, if any, changes in the marketplace. And while there will be some price shifting based on freight class, there won't be a direct correlation in shipping price increases based on volume and commodity type.
The bad news: one of the nation's biggest LTL carriers will change how and when they apply minimum charges to freight. Effective Jan. 20, the FedEx Freight Capacity Load minimum charge will be changing to affect smaller loads. Instead of the minimum charge applying to freight that exceeds 20,000 pounds or takes a linear length of 20 feet, the minimum charge will apply to freight that exceeds 15,000 pounds or utilizes a linear length of 15 feet.
Although we don't know how it might affect the industry as a whole, the changes will force companies to re-evaluate their shipping options. By moving the minimum charge to smaller loads, companies can still ship with FedEx, but at a potentially higher cost. Our experts will continue to monitor the situation, working with affected clients to determine alternative options available that can help mitigate cost.

How Transportation Insight Helps Navigate Changes
No matter how you might be affected by 2020 NMFC changes, you don't have to walk through them alone. Transportation Insight supports our clients by analyzing these changes before they come into effect and helping them to mitigate costs.
When it comes to the class changes, we look at each individually to see if there will be an impact to our partners. As their third-party logistics provider (3PL), we work to ensure there's a minimal impact to their shipping costs. If there is a change, we inform them and stand with them to mitigate the cost increase.
And with FedEx announcing changes to freight size qualifications for minimum charges going into effect near the end of January 2020, we will monitor how it may affect the LTL shipping world and explore other options for companies, like multi-stop freight. Through transparency and foresight, we help businesses focus on their growth, while we ensure logistical success from start to finish.
Understanding logistical change doesn't have to be a major challenge. Start a conversation with our experts today to learn how we are your partner in success across the logistical world.
Transportation Insight's industry experts offer quarterly trend analysis and market forecasts across transportation modes to help shippers understand coming changes and help them pivot to protect performance. Download the multi-modal guide for complete details on looming changes coming for LTL, Truckload, Parcel and International transportation sectors.