One of North America's greatest strengths is the logistics network. The U.S. rail system has 140,000 miles of track for transferring goods from origin to destination, along with over 2.7 million miles of paved roads that help move freight throughout the continent. Hundreds of thousands of workers conduct trains, drive trucks, or pack and unpack containers to ensure Consumer Packaged Goods and other products get to consumers in areas spanning from Holtsville, New York, to Ketchikan, Alaska.
In every generation, that strength is challenged by external factors. The current situation is no different: The novel Coronavirus (COVID-19) outbreak is straining retailers as consumers are demanding cleaning supplies at record highs. Adding to it is uncertainty coming from China and other Asian marketplaces with a lack of concrete information. A recent survey from the National Association of Manufacturers found over half of those polled expect operational changes in the coming months, with over a third experiencing supply chain disruptions now.
Fueling that fear of disruption is not a travel ban, but port closures as infections are identified. On Thursday, Mar. 19, 2020, the Port of Houston had a 23-hour shutdown after a part-time employee tested positive for COVID-19. It has new reopened.
As we move forward, what can you do to keep the supply chain moving? Through risk mitigation and contingency planning, there's still a lot in our collective control. Although there's no doubt that this will change the ways we do business, being smart and flexible will help your company grow throughout this storm.
The Inbound Traffic Issue: Getting Components from Markets Outside of the United States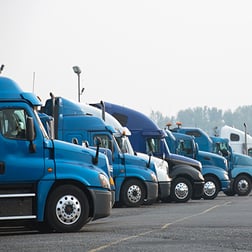 There's both good news and bad news in the international market. Across China, factories are coming back online with 90% of capacity estimated online. The bad news is that there's a severe lack of transport containers.
With the increase of canceled sailings across the Pacific and Atlantic Oceans, experts at all sides of the logistics industry are identifying a troubling trend. A lack of transit from Asia to the United States and back creates a demand for empty containers to carry cargo. Until this is resolved, there will be a backlog of items awaiting shipment to the United States.
Although air freight remains an option, the downturn of the aviation industry is creating a "bottleneck" effect of its own. With major airlines reducing their schedules, availability is severely impacted. Since airlines cut much of their European schedule, prices for airlifting cargo have sharply increased among carriers.
Because this situation is still fluid, it can be difficult to create plans and adjust them. The best move is to create a system that sustains volume movement in the future. Consider what you want your network to look like once this situation is over, and execute on a plan that allows for scalability, flexibility and supply chain redundancy. By planning and network modeling today, this temporary downturn can offer a major opportunity for future growth and success down the line.
Domestic Freight: Network Modeling Keeps Freight Moving Strong
For most consumers, logistics has always been a backroom business. Many consumers in a retail store today don't understand the process it takes to move Consumer Packaged Goods from their source, through distribution centers, and into retail centers. With the lack of certain products being available, it elevates the visibility of a logistics plan.
Because consumer demand is at an all-time high, the American logistics industry remains active and healthy. While distribution centers could be forced to change labor tactics to reduce social contact, cargo is still being loaded onto trucks with products destined to replenish otherwise empty shelves. As retail centers are taking a logistics-forward approach, the supply chain currently operates at high capacity because of consumer needs.
While this is good, it also creates several smaller challenges in the overall logistics network. These include equipment availability – multi-modal containers and trailer availability – and network design challenges. If you are having trouble accessing drivers and trailers, and getting freight to its intended destination, it's time to reassess your overall strategy.
Make Logistics Your Operational Advantage
The global supply chain – and the people who support it – remains open for business. Congratulations to you and your supply chain team that are out there on the front lines getting the job done. While you may have plans in place for these scenarios, it's important to continually evaluate that plan, and adjust it as the situation changes. Keeping communication channels open and ensuring continuity up and down the chain can ensure you execute on these contingency plans. Leveraging relationships and working together is the only way can ensure freight keeps moving forward.
Transportation Insight remains open and available to work side-by-side with your teams to ensure your logistics networks perform. As this situation rapidly changes, we proactively continue to help our clients manage challenges, and ultimately set them up for success. Let us help you master your supply chain, and make logistics your biggest operational advantage through any storm. Get started now by starting a conversation with our experts today.
Interested in getting industry updates sent to your inbox? Subscribe below.