The COVID-19 pandemic continues to affect cities and states, forcing governing officials to make emergency decisions. While the federal government is calling for social distancing through Apr. 30, many states are issuing "Stay At Home" orders for everyday people. Only "essential services" are still open, while other businesses – including ours – are still operating as employees work from home.
In Connecticut, New Jersey and New York, the situation is more dire. The Centers for Disease Control and Prevention issued a travel advisory for those three states, warning residents to avoid "non-essential domestic travel" for the next two weeks. This includes anyone who may be traveling into the state. Anyone leaving may be subject to a 14-day quarantine, depending on their destination, to curb the spread of novel Coronavirus.
Caught between stay-at-home and quarantine orders and fulfilling demand for essential goods, truck and delivery drivers are still delivering mail, food and goods to different parts of the United States – including quarantined states. Can drivers still make drops in affected areas? If so, do different quarantine orders apply in specific locations? We researched the current situation, and compiled this update to help you master your supply chain despite the external stress being placed on it.
The "Self-Quarantine" Guidance for Truck Drivers
While the CDC is asking everyone in Connecticut, New Jersey and New York to stay at home and avoid all travel, the same directive doesn't necessarily apply to truck drivers. In a follow-up statement, the CDC noted the following:
When we issued the self-quarantining guidance for greater New York City residents leaving this area, it was out of an abundance of caution to help protect U.S. areas with lower levels of COVID-19 spread. In line with our recommendations for other essential critical infrastructure workers, this guidance does not apply to critical transportation and delivery workers who are desperately needed for New York residents to continue their daily lives and respond to the COVID-19 outbreak.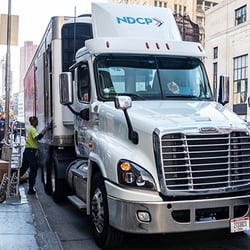 Although New York is one the nation's hardest hit by Coronavirus, the region still needs deliveries. Truck drivers bringing essential goods into New York City and across the state are still being encouraged to make those deliveries, without the fear of quarantine as a result of entering the areas.
The good news is that commerce can continue, and those drivers can make their deliveries with confidence that they are helping to keep people safe. Combined with the Federal Motor Carrier Safety Administration's national emergency declaration for commercial motor vehicle drivers, now is the time where our industry can rise up and help keep drivers running. However, the call comes with great responsibility to ensure drivers do not get sick. It is also vital to make sure that we're moving freight that can be delivered to its destination by confirming the consignee is open for business before sending a shipment
How Can Drivers and Shippers Can Stay Safe?
It's important now more than ever to practice good habits as both a shipper and a driver. That means you may have to incorporate new business habits that you may not have considered before.
From the shipping side: before sending out a load of freight, ensure that someone will be there to receive it. If nobody is there to receive the freight or accept it on the dock, it runs the risk of being returned at your cost. Additionally, if you have the capacity, now is the time to start adding electronic signatures and receipts to your workflow. This way, your company is still able to document delivery, while reducing physical contact with others, thus reducing the potential spread of COVID-19 to others.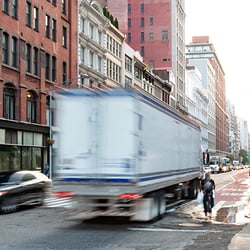 Drivers need to practice social distancing as well. The CDC recommends drivers spend as much time as possible in their trucks to reduce contact with others, especially when delivering to New York City or the other affected states. If drivers need to spend the night in New York, they are advised to stay in their hotel room as much as possible, or spend the night in their sleeper cab. If drivers need to get out of their cab, they are advised to minimize interactions and stay at least six feet away from others.
Most importantly: If drivers practice these good habits, they may not need to spend 14 days in quarantine after leaving New York. The only exception is if self-quarantine is recommended by state or local officials for everyone in the areas where they live. It's important to check restrictions for where drivers are going next, in order to follow regulations and help stop the spread of COVID-19.
Get Help Managing the Ever-Changing Situation
The novel Coronavirus situation has changed the way we do business, and we're all feeling the effects. By practicing good habits and working together to stop its spread, business will continue to persevere and grow in the face of adversity.
Transportation Insight remains your partner in maintaining healthy business practices in this situation. From route optimization to using technology to match carriers with freight, we can help you keep wheels turning all across the country. Reach out and contact us today if we can help your business grow.
Interested in getting industry updates sent to your inbox? Subscribe below.