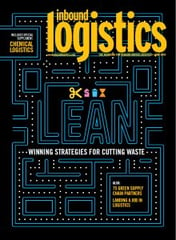 HICKORY, NC (June 27, 2014) – Globally-recognized third-party logistics (3PL) provider Transportation Insight and longtime client Rotary Corporation are featured in the cover story of the June 2014 issue of Inbound Logistics magazine. The article focuses on the positive impacts generated by the implementation of Extended LEAN, a proprietary continuous improvement method targeting processes in manufacturing and across the end-to-end supply chain.
Many companies are implementing LEAN principles to streamline their operations and dramatically improve service to their customers. As noted by the continuous improvement team at Rotary Corporation, a manufacturer and distributor of outdoor power equipment parts in Glennville, Georgia, the most critical step in the LEAN journey is to create a Value Stream Map (VSM) to visualize all of the company's processes and identify opportunities for improvement. "Once the value stream map is completed, it becomes a question of the improvement plan. It is just a matter of how deeply to dig into each process," says Donald Fountain, Rotary's Vice President of Operations.
According to Rotary, areas of improvement have been numerous. Achievements have included the reduction of lead times by 60 percent and the transformation of a major production process from a batch operation into a streamlined, one-piece flow system. This new system has significantly reduced product rework by enabling workers to catch defects more quickly.
"Rotary Corporation is excelling in the creation of LEAN manufacturing and distribution systems, but more importantly, they are creating a culture where all employees are thinking LEAN," says Eric Lail, Vice President of Client Services and Continuous Improvement at Transportation Insight and one of 200 Shingo Prize examiners worldwide. "While Rotary's continuous improvement team focuses on productivity inside their four walls, we collaborate with Rotary to identify and remove non-value-added activity in their logistics operations and business processes. Our partnership with Rotary is an example of Extended LEAN working optimally."
With a consultative, co-managed approach, Transportation Insight provides clients with a robust portfolio of supply chain solutions in less-than-truckload (LTL), full truckload (TL), parcel, warehousing, international freight forwarding, supply chain analytics, LEAN consulting and packaging. A continuous improvement approach to supply chain optimization empowers Transportation insight clients to thrive in a competitive global business environment.
Transportation Insight's appearance in this article coincides with its naming as an Inbound Logistics G75 Green Supply Chain partner. The G75 identifies companies committed to the sustainable supply chain.
About Transportation Insight, LLC
Transportation Insight is a global lead logistics provider with more than $1.6 billion in supply chain spend under management. For over a decade, the 3PL has partnered with hundreds of manufacturers, distributors and retailers to achieve significant cost savings, reduce cycle times and improve customer satisfaction rates by providing customized supply chain solutions. Transportation Insight offers a Co-managed Logistics® form of 3PL, carrier sourcing, freight bill audit and payment services, state-of-the-art transportation management system (TMS) applications and business intelligence. Its logistics services include domestic transportation, supply chain analytics, international transportation, warehouse sourcing, LEAN consulting and supply chain sourcing of indirect materials. Headquartered in Hickory, NC, Transportation Insight has secondary operating centers in Charlotte, NC, Bentonville, AR and Atlanta, GA, as well as more than 40 client support offices across North America. For more about Transportation Insight, visit www.transportationinsight.com.