Parcel shipping volumes continue to hit new highs. That drives a continuous evolution of small package shipping networks. Both carriers and shippers are working to find advantages that support their financial performance.
National carriers have an arsenal of tools at their disposal. Maintaining complete awareness of their clients' parcel shipping practices, carriers are able to make strategic service decisions that support their own performance. Facing a lack of competition, carriers are often in a powerful position, but small package shippers are not defenseless.
Organizations that rely on parcel shipping networks have the ability to monitor and evolve practices in ways that enhance customer experience, manage transportation cost and improve delivery performance. Presenting at Parcel Forum 2019, we shared 2020 rate forecast and impact analysis to help shippers improve their ability to plan for parcel transportation in the year ahead. Here's insight on a few more tools shippers can leverage in discussion with their service providers.

Parcel Reporting Resources
National parcel carriers limit the accessible information that reflects your account and service history. Carriers operating with an agenda focused on protecting their own profitability benefit from gaps in the information that they choose to provide.
That said, the information that is available through the online service portal of UPS and FedEx is very valuable. These resources provide details directly from parcel carrier systems. Top metrics you should be regularly accessing and analyzing include:
UPS.com:
FedEx Reporting Online:
Shipment Detail Report
Extended Shipment Detail Report
Surcharge Detail Report
DIM Detail Report
While these online reporting resources are valuable, none are more important than the rolling average report. The rolling average is used to determine the level of discount the carriers make available to shippers. This information is not provided online, but it is available to you. It is within your right as a shipper to know where you are within your tier. The rolling average is very difficult to recreate on your own, but your carrier Account Manager can access and provide that report directly from the carrier's system.
Although a carrier may not disclose all of the information a shipper needs to monitor service performance completely, third-party service providers offer shippers an unbiased perspective into valuable metrics that can be leveraged to improve shipping practices. Combining the details carriers make available, with analysis underpinned by rigorous audit processes and industry expertise, third-party parcel experts offer small-package shippers the ammunition they need to improve strategies. A partner focused on fulfilling your agenda – like improving your alignment to the carrier network – can be mutually beneficially to the goals of the parcel carrier, too.
For instance, engineering your package to optimize the use of size and density, not only improves your piece shipping cost, it benefits the carriers' ability to more efficiently plan your shipment. Analysis can help you forecast volume trends in ways that improve capacity planning for the carriers. Streamlining audit and claim processes with your carrier provider helps everyone identify opportunities to improve service. Win-win-win scenarios help everyone achieve their goals.
Independent Validation, Verification is a Best Practice
Among best practices employed by successful companies is the use of a third-party partner to offer an unbiased perspective. This can lead to improved processes. Audit firms, strategy consultants, and legal entities all support clients whose expertise lies outside those specific domains.
Why should the parcel shipping environment be any different?
An independent parcel expert has the ability to analyze information, help you understand your parcel shipping performance and then identify practices that can improve your alignment to the carrier network. A logistics partner provides full visibility to your small package shipping, and it allows you to see your operation through the eyes of the carrier.
Unfortunately, parcel carriers' terms and conditions are widely misunderstood. Marketplace fears emerge when media reports threaten penalties for small package shippers that employ a third-party logistics partner. That can be intimidating for shippers without the resources or awareness to object.
The reality is that expert logistics providers focus on identifying and creating parcel shipping efficiencies through a streamlined approach to tracking packages. In doing so, they position their clients to employ best practices, and as such, they reduce burdens on their carrier partners. With this foundational support, parcel shippers should not crumble in the face of unfounded media threats.
Parcel Agreement Changes
Implementing changes to a parcel service agreement takes time. The length of time often depends on your size.
Certainly there are times when the parcel carrier wants to drag out discussions, especially for shippers with higher volumes that may have a broader impact on the carrier's network. In these cases, a lot of effort is invested in analysis that provides the carrier with a clear understand all the effects of an agreement change. For instance, if you are redirecting parcel volume, the carrier wants to understand how that will affect its fleet balance, scheduling or other operational practices.
For smaller customers, authority is different for pricing and other changes. If your agreement modifications stay within the authority of your local carrier representatives, changes may be approved more quickly. The more significant changes require a higher level of approval that may delay the process.
Remember, if a parcel carrier makes a change to existing strategy – if they make an exception for one shipper – they have to decide how it will impact the entire organization if the exception applied to all other similar customers.
Keep in mind, too, that if you are waiting for a response for an extended period, the carrier may be thinking long and hard about the opportunity – and you may have a good deal. If the carrier is making a lot of money by serving you, you will usually get the deal quickly. If you are pursuing an improved discount, that is lost profit for the carrier.
There is no silver bullet for entering conversations around agreements; however, there are levers you can pull that may trigger response from the service provider. How are you approaching the negotiation? Do you have a competitive bid? If you haven't entertained another carrier, bringing them in might help your current service provider recognize that your account is in jeopardy.
Expertise Drives Performance Improvement
At a time when e-commerce growth drives opportunity for many organizations, parcel shipping complexity will only continue to grow. Organizations are pursuing sustainable methods that support client service and facilitate accelerated growth. National carriers are working to optimize revenue while battling capacity fluctuations, deploying new facility resources and integrating emerging technology applications.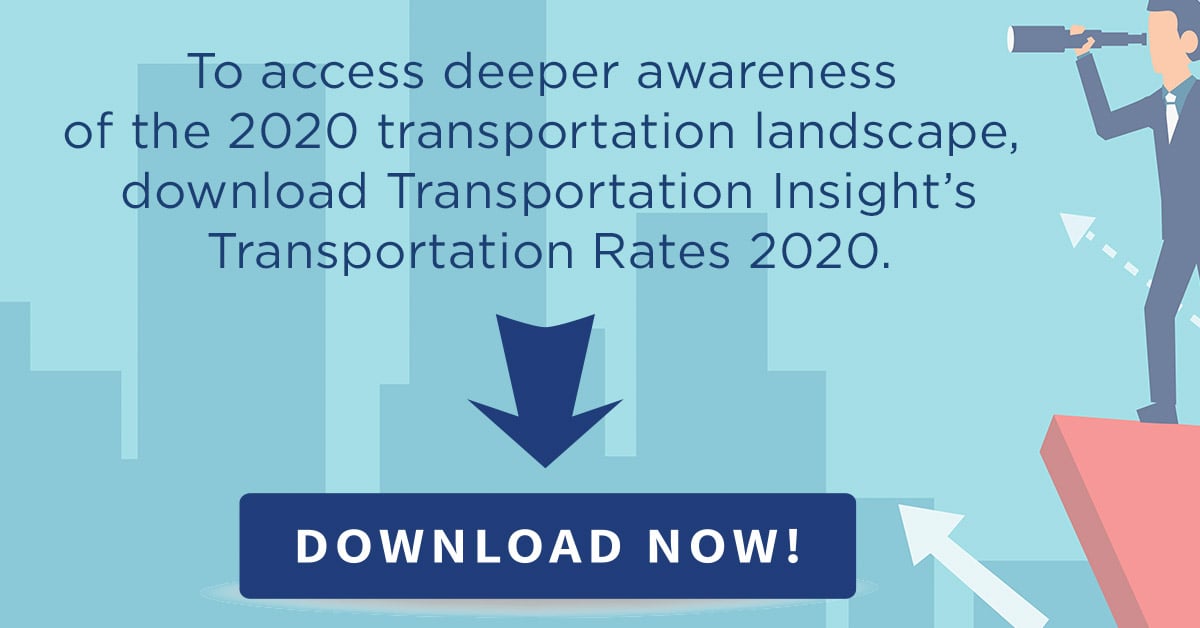 Shippers are in the same position, particularly as they accelerate service times and expand delivery options in untraditional ways. Susceptible to carrier changes outside their control, small package shippers can only adjust their internal processes. That doesn't have to be a limitation.
By understanding the intricacies of the transportation marketplace, shippers can forecast the impact of changes in supply chain networks. In doing so, organizations are able to identify shipping practice that jeopardize performance and evolve a corrective strategy.
To access deeper awareness of the 2020 transportation landscape, download Transportation Insight's Transportation Rates 2020.