As COVID-19 shelter-in-place and quarantine guidelines drive a spike in residential deliveries, parcel carriers' commercial volume is plummeting. Those carriers are taking on additional cost in the support of service that is far less profitable, while their traditional profit-rich revenue drivers are closing business doors – some permanently.
Looming uncertainty about the small package shipping landscape post-COVID-19 makes it difficult to anticipate exactly how parcel service providers respond with rates. In many cases, carriers, like shippers, are reacting to market shifts on a day-by-day basis. However, as you examine small package service level needs, particularly compared to costs, your ability to seize market share opportunities will rely on your ability to navigate parcel pricing structures that are complex by design.
Ultimately, a global effect of the novel coronavirus may open the door to a very competitive business environment for survivors and an aggressive pricing environment for carriers working to rebound from a first and second quarter that will be costly in numerous ways. Several market-wide developments related to your parcel service and cost deserve attention in the quarter ahead.
Will Fuel Surcharges Follow Historic Dip in Gas Prices?
With millions of Americans sharply reducing daily transportation activity in recent weeks, demand for gas and oil is down significantly. While gas prices dipped to the lowest point in decades, COVID-19 isn't the only factor disrupting an energy sector closely tied to transportation costs.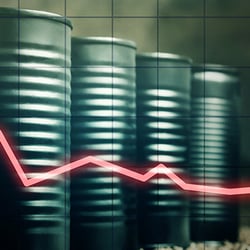 A bulging supply of petroleum, and political volatility between oil producing nations could keep fuel prices low deep into 2020.
How will that affect parcel carriers' fuel surcharges? And more importantly, how will shippers respond to paying these charges that can amount to a significant portion of the overall shipping cost? Keep in mind, this year, FedEx added fuel surcharges to many of its existing service charges, such as Additional Handling-Weight or Additional Handling-Packaging. The move follows similar action by UPS in 2018, and it essentially doubles the cost of many existing surcharges.
Originally meant to protect parcel carriers when gas and diesel prices fluctuated throughout the year, fuel surcharges have withstood the test of time, but a global pandemic creates a different playing field. Introducing fuel surcharge conversations with your carriers may allow you to make judicious decisions about shipping volumes in the future.
Expect Volume Surcharges to Mirror Fluctuations
After COVID-19 affected Asian production in the early part of 2020, surging consumer demand for many products coincided with factory workers' return to the job and stimulated an air cargo boom. This comes as domestic and international flights are declining due passengers' limitation on business and pleasure travel.
Temporary surcharges on international shipments from FedEx and UPS allows the national parcel carriers to offset cost increases driven by sharp reductions in capacity. Once capacity shortages alleviate, expect an end to the additional charge on products, especially those in Asian lanes, but also on those shipped to and from Europe.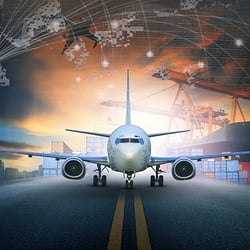 During this current pandemic, we've seen national parcel carriers take strong action to support relief and response efforts through the movement of health and safety products. As U.S. businesses and citizens recover from this disruption, don't expect to see carriers continue any of these temporary surcharges.
That said, intense volume fluctuations will drive some process changes. Both national carriers rely heavily on commercial service to sustain revenue. For FedEx's Ground Service, commercial volume usually comprises 80-85 percent of a route. For UPS, the commercial make-up is smaller at 50-60 percent. In both cases, sharp drops in business activity will spur dramatic response.
More on that below, where we discuss carriers' adjustments that are also driven by strong residential demand. Looking at activity among small package shippers, that shift is evident as home-bound shoppers pursue online purchases for a wider variety of home products, groceries, consumable goods and supplies.
During March, we saw a decrease in commercial volumes, but our small package shippers experienced a cumulative average increase of 20 percent in packages and volume, year over year. For the first quarter, we saw small package volume increase 15.5 percent over last year.
Leveraging Technology Data to Optimize Service
Fluctuations in commercial and residential parcel volume certainly create challenges for the national parcel carriers, but they leverage complex technology capabilities to optimize their delivery routes, labor hours and package sortation.
As soon as packages are loaded into the carriers' systems they become part of the planning equation. Monitoring "smart" package flow to distribution centers allows for careful planning of the internal staffing needed to manage the workload. Dispatching drivers daily, FedEx and UPS have the ability to create and collapse as needed depending on that volume and flow.
This means capacity constraints won't be a long-term problem for carriers, but the close attention applied to package details should also merit the same focus from parcel shippers.
They, too, can leverage industry-leading technology applications in ways that improve cost management and service to end customers. Combining data gathered through intense parcel invoice audit, with analysis grounded in technology and deep industry expertise, parcel shippers can gain new perspective on their small package program that allows them to adjust their processes and maximize performance:
Understand how transportation cost intermingles with product profit margins to identify appropriate delivery service levels, SKU rationalization opportunities and opportunities for growth.
Monitor parcel shipping volumes to validate and preserve carrier discount tier levels and avoid unexpected additional costs spurring from a drop or leap in shipping.
Identify customer service expectations to support network design options that facilitate desired shipping transit time and the optimal cost.
Partner with a Parcel Expert to Control Cost
In order to make sure you get the best possible pricing, you need an operating ecosystem that is reliable and allows you to control your own destiny. Take your parcel operations – and your ability to drive organizational success – out of the hands of parcel carriers or digital retail platforms like Amazon.
Many companies have the components they need to collect, assemble and review parcel program data. Not everyone possesses the specific parcel expertise required to not only manage those elements, but master the parcel supply chain and realize maximum service at optimal cost to guarantee end customer satisfaction.
Transportation Insight is able to collect enormous volumes of parcel data, digest and analyze that information into the most actionable information required to adjust supply chain operations before, during or after a crisis situation. Contact our parcel experts for a program assessment so we can bring you into a multi-modal transportation management platform that evolves as your business needs change.
Interested in getting industry updates sent to your inbox? Subscribe below.