Today's special article comes from Client Solutions Director William McCallum, who works with Transportation Insight clients daily to navigate market changes and drive solutions. The information and solutions come from clients he has worked with in the past weeks to help get through this situation.
The COVID-19 outbreak is changing the way supply chains operate in a matter of weeks. Transportation providers are modifying service and adjusting capacity placement daily due to government and health regulations. Supply chain professionals are challenged to meet customer expectations, while keeping their own costs within balance.
There are a lot of unknowns about the outbreak duration and how things will look in the future. Today, many of our clients are making positive changes to keep their logistics networks moving. Here are a few examples of how shippers are responding to new conditions, giving you insight that can help you implement process changes to master your supply chain - even during disruption..
Clearly Communicate Expectations Among Partners
A VP of Manufacturing for a textile company initiated frequent communication with suppliers and carriers to ensure everyone throughout the supply chain is informed about the ever-changing business needs. Timely shipments are critical because the company provides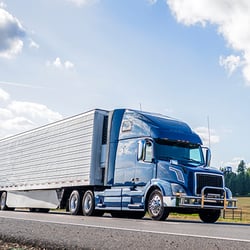 medical supply components used to combat novel Coronavirus at hospitals and medical facilities.
Through this increased communication, vendors can better align shipments with carrier capacity and ensure timely delivery.
Opening the lines of communication between vendors, carriers and customers allows the business to overcome delays, create contingency plans and ensure shipments meet delivery expectations.
Action Item: If you haven't started already, open communication lines with your partners. Managing expectations is critical to not only keeping customers satisfied, but to informing them of how the overall situation will affect their product delivery. Using a TMS solution can help you track freight and communicate expectations to both suppliers and end consumers.
Create a Health Contingency Plan for Drivers
A Director of Logistics for a construction materials manufacturer implemented policies to protect the health of drivers and employees while loading truckload shipments. Construction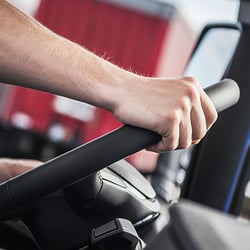 materials are deemed essential and continue to be shipped across all
Her team aligned shipments with carrier partners to secure needed capacity. Social distancing has proven effective with reducing the spread of Coronavirus, and the company has adopted a no-visitation regulation to prevent potential transmission of the virus. Although drivers are not allowed into the facility for both employee and driver safety, portable toilets are now in place for driver convenience, and priority is given to timely trailer loading.
Action Item: Creating a health plan for drivers and warehouse workers focused on reducing social contact can help all employees stay healthy throughout the pandemic. The Centers for Disease Control and Prevention issued guidelines for drivers making deliveries to New York City, but everyone can benefit by following their advice.
Keeping Freight Moving Through Mode Analysis
A logistics manager for an electronics manufacturer is challenged by increased rates for international air freight shipments. International commercial flights have decreased by over 50% due to the pandemic, severely limiting freight capacity and increasing costs for expedited air freight. On certain air freight routes, rates have increased nine-times over, going from rates in cents per kilogram to dollars per kilogram.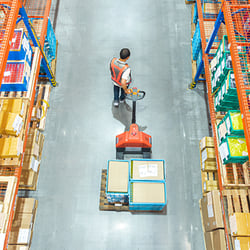 Many of these shipments contain parts needed to maintain electronic component production. His team works alongside manufacturing operations to ensure parts are delivered just in time and manufacturing delays are avoided. Through mode analysis, Transportation Insight helped this client identify cost alternatives. By analyzing data and cost visibility, all inbound shipments are examined for cost changes, and possible shifts to alternate carriers or modes. In today's environment, transportation is rapidly changing and requires prompt action to meet needed service while controlling costs.
Action Item: Now more than ever, it's important to analyze your supply chain and ensure you're making the right decisions to ensure productivity. Transportation Insight can help you determine the best modes and routes for your freight, helping your team manage costs and ensure essential items get to your facilities.
Carrier Loyalty Pays Dividends
A logistics manager for a steel components manufacturer utilizes a private bid board to ensure needed capacity for his flatbed and van shipments. The company's products are used for road and bridge construction, which is continuing as an "essential service."
Disruptions to deliveries create unneeded construction delays. To ensure deliveries get where they need to go, volume is directed toward carrier partners that can provide spot pricing on individual loads. By narrowing the number of carriers it utilizes, the company strengthens relationships and ensures they can secure the needed capacity.
Action Item: For truckload and less-than-truckload carriers, there's a lot of uncertainty about how much freight will be available through the COVID-19 crisis and when volume drops will end. Starting conversations today can help you ensure capacity and get the best rates as we move through this situation.
Get Help Managing Change Within the Supply Chain
COVID-19 has rapidly changed supply chain management. By practicing good habits and working together to stop its spread, business will continue to persevere and grow in the face of adversity.
Transportation Insight remains your partner in maintaining healthy business practices in this situation. From carrier optimization through financial settlement, we can help you react to today's rapidly changing business needs and keep wheels turning all across the country. Reach out and contact us today if we can help your business grow.
Interested in getting industry updates sent to your inbox? Subscribe below.