Volatility has become a norm in the International transportation marketplace.
Rising rates combined with a fluid environment of tariffs and international trade agreements mean that marketplace currents will not calm any time soon. Expanding small package shipments across borders adds pressure as regulatory agencies secure e-commerce supply chains against threats to commerce and public safety.
While market trends were previously dictated by two or three annual events – Chinese New Year, May 1 contract deadlines and peak season shipping – international transportation is now susceptible to changes that occur almost daily.
Looking deeper into factors driving the tumultuous International environment, it becomes clear that a trusted advisor can provide valuable support when it offers experienced manpower to manage transportation procurement and trade compliance. Here are the areas that require attention in International transportation in 2020.
Rates are on the Rise
January will be key in determining the momentum for rates throughout 2020.
Fourth quarter capacity cuts in 2019 and shippers front-loading capacity ahead of an early Chinese New Year – Jan. 25, 2020 – are lifting spot rates.
This is occurring as the International Maritime Organization's mandate on low sulfur emissions went into effect Jan. 1 for ocean freight carriers – both bulk and container. Ocean carriers grappling with ramifications spurred by this mandate are passing added costs to shippers – to the tune of a $300 rate increase on a 40-foot container.
Seeing how the market absorbs both of these events will set the tone for rates in the year ahead – at least through May when all new ocean shipping contracts must be in place.
If carriers start slow steaming, cancelling schedules or reigning in capacity, the impact could be significant on rates, as well as service.

Tariff Trends
As we proceed into the year, tariffs and trade compliance will continue to be a hot topic. Rates will follow. That affects demand, and the carriers will respond by reigning in supply.
New tariffs threats emerged during the World Economic Forum when U.S. Treasury Secretary Steven Mnunchin warned that Italy and Britain will face U.S. tariffs if they process with a tax on digital companies like Google and Facebook.
Meanwhile, the U.S. just entered a "phase one" deal with China, agreeing to "halve 15 percent duties on $120 billion of imports and delay others in return for Chinese promises to make structural reforms and purchase an additional $200 billion in American goods and services over the next two years," as reported by the AJOT.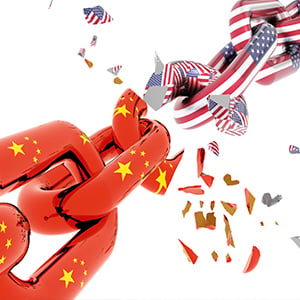 Nearly all goods imported from China are now subject to tariffs at either 15 percent or 25 percent and rising. There is an ongoing process to roll back, delay or even cancel tariff increases on some apparel and a large number of electronic items – including phones and laptops – but most tariffs won't be eliminated.
Phase 2 trade deal with China would not necessarily be a "big bang" that removes all existing tariffs, U.S. Treasury Secretary Steven Mnuchin told The Wall Street Journal in an interview.
Exclusions offer the opportunity for tariff relief for some importers. However, with more than 3,000 Harmonized Tariff Codes included in the list of exclusions, many importers haven't pursued the compliance research required to take advantage of these opportunities for cost reductions.
As a result, regardless of the outcome of negotiations between China and the U.S., sourcing diversification is a trend that will continue in 2020. More and more, importers will look to south Asia, India, Malaysia and Vietnam as sources for low-cost finished goods that escape the heavy hand of tariffs levied on products originating in China.
Topic of the Quarter: USMCA
The United States-Mexico-Canada Trade Agreement cleared a major legislative hurdle in December with passage in the U.S. House.
If passed, it offers many of the benefits brought by the North American Free Trade Agreement (NAFTA), including free and open trade with Canada and Mexico. At the same time, it will include a stronger layer of protection for U.S. Manufacturing jobs.
This agreement is positive for U.S. companies, but due diligence still must be exercised to insure that shippers meet eligibility requirements to claim USMCA benefits.
Many shippers do not have the manpower to maintain constant awareness to trade agreement changes or modifications in the Harmonized Tariff System. Failing to provide close scrutiny of International trade creates risk exposure for organizations relying on the cross-border movement of raw materials and finished goods.
Compliance Practices of the Past no Longer Suffice
In the past, relative ease of operating in the international marketplace has been eclipsed by volatility. The "set it and forget it" approach to trade compliance is no longer effective in an environment with sudden announcement and implementation of tariff increases, as well as increased enforcement of trade regulations as validated by the Trade Facilitation and Trade Enforcement Act of 2015.
An international logistics partner working in the marketplace every day is able to provide clients with valuable awareness of sudden changes in the landscape. A partner with an eye cast daily toward changes in tariffs, trade agreements and capacity offers shippers the ability to validate and evolve performance – and maintain their priority focus: meeting the needs of their customers.
Understanding international trade doesn't have to be a major challenge. Start a conversation with our experts today to learn how we are your partner in success across the logistical world.
Transportation Insight's industry experts offer quarterly trend analysis and market forecasts across transportation modes to help shippers understand coming changes and help them pivot to protect performance. Download the multi-modal guide for complete details on looming changes coming for LTL, Truckload, Parcel and International transportation sectors.