It's no secret that the outbreak and spread of a novel Coronavirus has upended the way we work, conduct business, and even enjoy leisure activities. This applies to the truckload transportation industry as well, and it can be a great barometer of how the economy is reacting. Although retail stores slowly prepare to open for business and grocery stores continue to stock in-demand essentials, the truckload forecasts give us a little optimism.
What does this all mean for your company? By gathering and analyzing data from multiple sources, we can help you understand how your logistics team can take advantage and thrive beyond this season.
Second Quarter 2020 Will Determine the Recovery Trajectory
As everyone struggles to understand life after Coronavirus, there are some indicators that better days are ahead. In the most recent Morgan Stanley Research report on the truckload industry, the data suggests we may be at the bottom of the descent. Although the Morgan Stanley dry van only truckload freight index is at a low last seen in 2016, the analysis suggests that there's nowhere to go but up from here.
While it's impossible to predict whether the recovery curve will take a U or V shape, the good news is that the industry is primed to slide upward. According to Morgan Stanley Research, while the straight-line trajectory is down compared to the all-time lows of 2015, the second quarter 2020 results will ultimately determine the recovery direction for the rest of the year.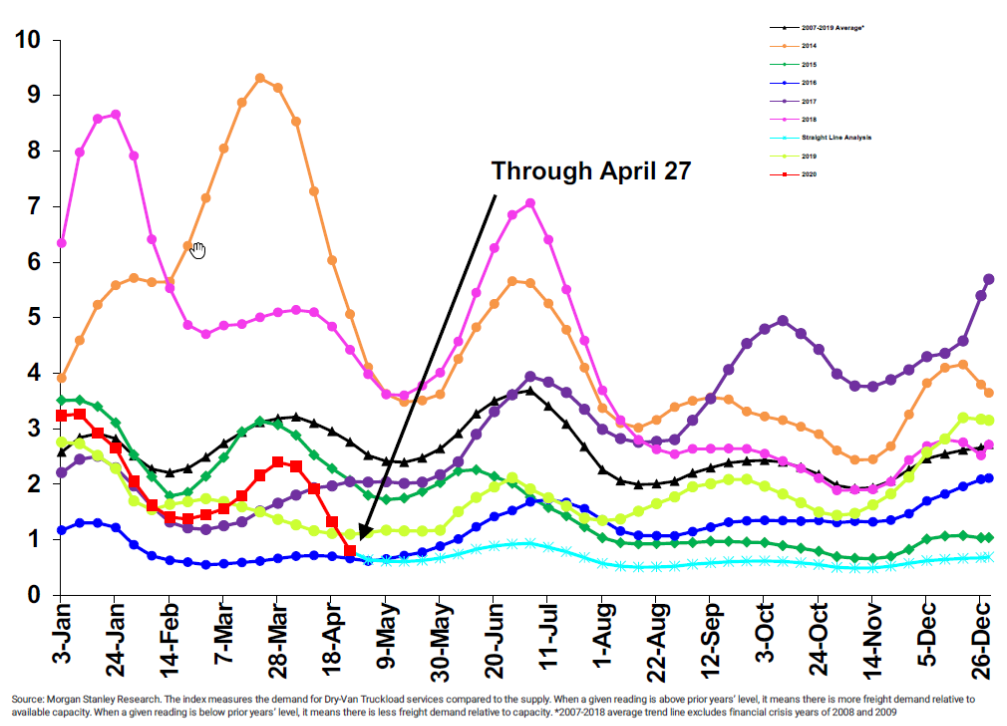 Source: Morgan Stanley Research
Giving confidence to this projection is the guarded optimism expressed by the approximately 400 transportation carriers, brokers and shippers polled by Morgan Stanley every two weeks. According to their latest data published Apr. 29, more people in the category expect to see a "medium" level of impact from COVID-19 in the next three months, which is improvement from previous surveys.

Source: Morgan Stanley Research
Recovery Trends Vary by State-to-State
As states start to discuss what re-opening the economy will look like, it's becoming clear that every region will recover at a different speed, and will demand different services. Heatmaps from the DAT Trendlines™ are providing some insight on where truckload demand may recover faster than other places.
According to its research, national van demand and capacity are highest in the Southern U.S., with most of the demand coming from Arkansas and Mississippi. Meanwhile, states severely affected by COVID-19, like New York and Washington, have lower demand.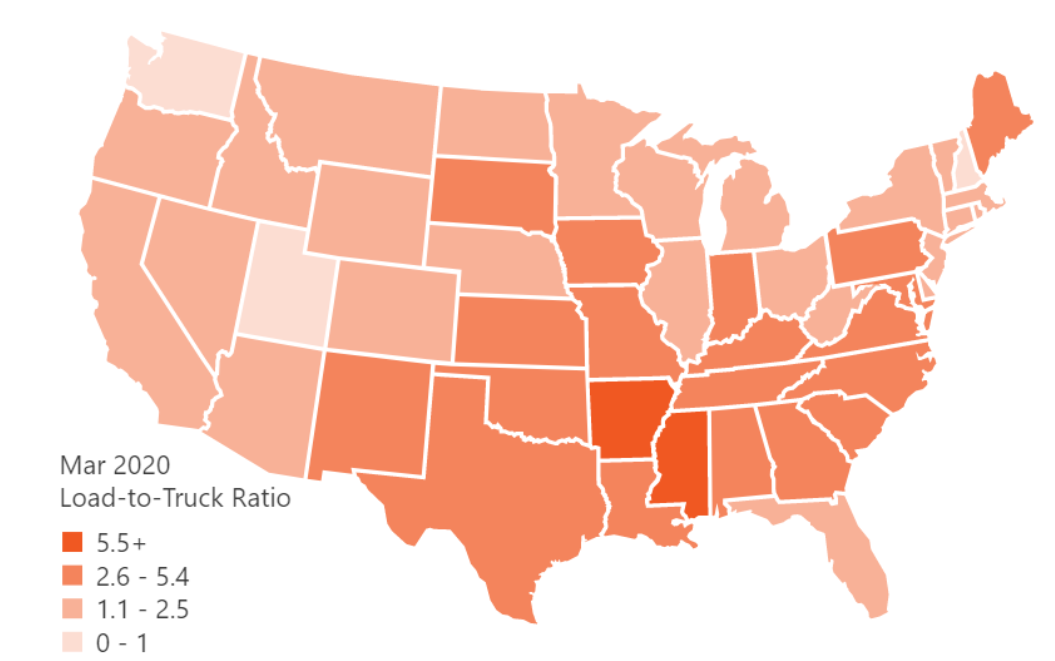 Source: DAT Trendlines
Meanwhile, the heatmap for reefer demand and capacity is completely different. While the highest demand comes from Arkansas, Maine and New Mexico, there's still moderate demand from the Midwest as food crops prepare for shipment.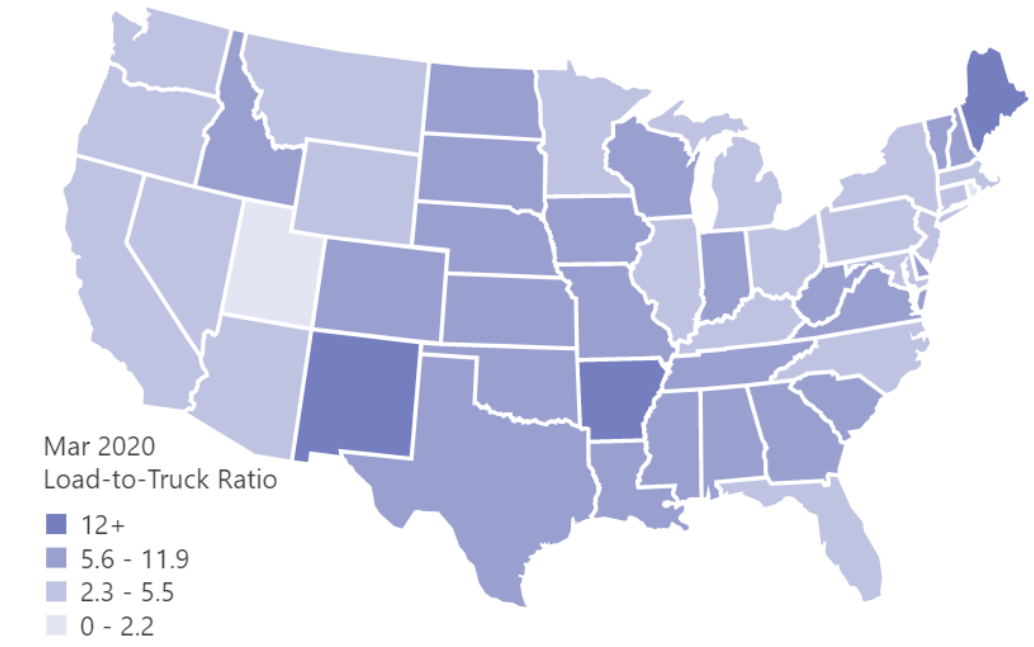 Source: DAT Trendlines
What Can We Infer from the Data?
The collected data reinforces much of the advice we offer clients daily as the situation continues to evolve and change. Although the weakened freight market reflects economic uncertainty, there's still some upside for shippers during this time.
It's clear that the United States won't spike to pre-COVID-19 productivity levels overnight. As displayed by the DAT Trendlines heatmaps, the nation will slowly come back online by region. We are starting to see that now in the southern states, as governors slowly start to unwind the stay-at-home orders allowing businesses to come back online. The remainder of the states' recovery will be based on several different factors, including COVID-19 infection rates and local regulations.
If your company primarily relies on the spot market for truckload shipments, there's never been a better time to get quotes and secure freight. Because spot rates are at a low due to oil prices and significantly low demand, prices are down. Now is the time to discuss opportunities with your brokers about securing quotes and getting trucks moving with your freight in dry vans, reefer trucks and flatbeds.
What if your company already has a contract with a provider? Instead of ignoring them for the spot market, it's more important than ever to work with them on contracted rates for forecasted freight volumes. Although contract pricing may not be as low as the spot market, standing with a carrier today will pay dividends long-term. Because loyalty and partnership are critical, keeping a contracted partner now can lead to a slower rise of rates as the economy comes back online.
If you are nervous about the spot market, or curious about how to approach those conversations with your partners, Transportation Insight can help you put together a long-term strategy. Reach out to our team if you need help navigating the truckload market as we head down the road to recovery.
Interested in getting blogs straight to your inbox? Subscribe below.