Key Performance Indicators (KPIs) are the measurements a business uses to track progress toward meeting its goals. To establish meaningful KPIs, focus on the vital measurements that mean the most to your business. Most importantly, your KPIs should directly relate to corporate objectives. KPIs should also define and establish objectives and responsibilities for meeting and exceeding customer expectations by incorporating metrics that involve all parties in the process.
When determining KPIs, make sure to consider the following:
Tracking KPIs enables you to view performance over time and guides you on how to optimize your supply chain and how to identify problem areas that need to be improved.
Measurements alone are not the solution – the solution lies in the corrective actions that you take.
KPIs should have an owner who is responsible for achieving the agreed upon metric.
Management needs to encourage and support necessary process changes to achieve the desired targets.
Each functional area of the business should have 3-5 KPIs that are easily relatable to all other areas of the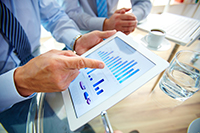 enterprise. Learn the mechanics behind these measurements – what drives them positively and negatively. Try to understand the various factors that influence results. Use this information to identify areas of potential improvement in your current processes. Set aggressive, yet attainable, goals based on these improvement areas. Goals can be based on benchmarking against like companies. Goals can also be set to reflect a specific percentage improvement over past performance.
Most importantly, monitor your results. Put corrective action in place to improve your processes. Did you follow up to ensure that your corrective actions yield the desired results? If so, what is your next area for improvement? If not, then why not? Try to identify the root cause of the problem by asking why.
Enterprise Logistics Solutions Providers like Transportation Insight know that Key Performance Indicators must be based on accurate measurements if they are to demonstrate added value and foster continuous improvement in your organization. Measuring the success of your efforts to instill positive change in your supply chain through implementation of carrier sourcing strategies – along with technology and automation tools – will help you quantify the return on your investment in a supply chain optimization and cost reduction strategy.