The Coronavirus is driving transportation industry changes every day. This fluid environment creates new challenges to your ability to monitor your supply chain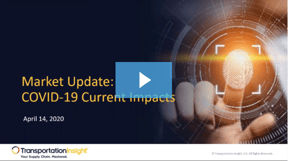 network and understand how a seemingly constant state of change can affect your business.
To help shippers focused on protecting performance and serving end customers during this period of uncertainty, Transportation Insight's industry experts gathered to create a timely webinar that offers insight on:
Identifying weak supply chain links before there's a break
Transitioning your team from reactive to proactive
Areas of opportunity now and post-COVID-19
Mode-specific rate, volume and capacity trends – Parcel, LTL, Truckload, International
Listen to the webinar to get the latest multi-modal information about the global supply chain impact of Coronavirus and learn how you can adapt your practices to keep your freight moving.