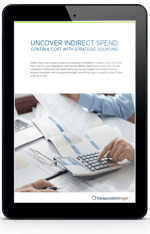 Indirect Spend has a material impact on a company's profitability – consuming up to 40% of the expense budget. Learn how to optimize your procurement practices and reduce your Indirect Spend costs by as much as 25%.
Defining Indirect Spend costs can be a challenge, but Transportation Insight's 30-year veteran of sourcing and procurement offers guidance on practices that help identify and control these expenses. Download "Uncover Indirect Spend: Control Cost with Strategic Sourcing" to achieve savings through actionable steps shared by Transportation Insight Director of Sourcing Solutions Gene Smith.
This guide offers strategies for controlling costs with tactics that:
Identify Items, Quantities and Suppliers to drive spend aggregation
Group Items, Review Prices and Reduce Suppliers to simplify processes
Measure Cost Savings and Supplier Performance to create lasting value
Read this guide today to access a 12-step process path toward Strategic Sourcing and measurable cost savings.