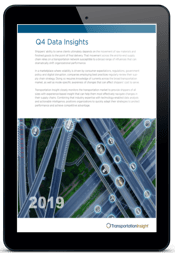 Consumer expectations, regulations, government policy and a host of factors drive volatility across the transportation marketplace. In this climate, supply chain strategy pivots can reduce costs, protect profit and improve service.
Maintaining close awareness of events affecting the broad transportation marketplace positions shippers to respond to disruptions and prepare for future events in ways that minimize impacts on cost to serve.
Transportation Insight closely monitors transportation market trends and provides experience-based insight that helps shippers anticipate and react to supply chain changes. Released quarterly, Transportation Insight's Data Insights provides timely information that empowers shippers to evolve their transportation strategies to protect performance and achieve competitive advantage.
Download Data Insights now to access deeper understanding of how fuel prices, economic currents and mode-specific transportation changes are impacting your supply chain.