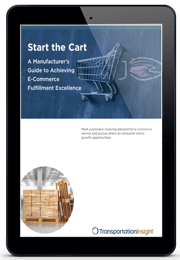 The retail landscape is changing dramatically for consumer products and their manufacturers.
To help manufacturers meet the expanding service needs of their existing customers – and drive profitable direct-to-consumer growth, Transportation Insight offers Start the Cart: A Manufacturer's Guide to Achieving E-Commerce Fulfillment Excellence.
Inside we explore the intricacies involved for manufacturers serving their customers' evolving e-commerce needs. Learn more about the solutions manufacturers are using to support effective fulfillment for their own online sales channel.
Drop-shipping strategies that control cost
Multi-modal options for direct consumer delivery
Network changes required by strategy shifts
Guidance for managing the product returns process
Download the Guide today and gain insight on how consumer product manufacturers are evolving their e-commerce supply chain to create competitive advantage.